This week, we continue our conversation about pricing and how to use benchmarks to both arrive at a number for your luxury listing and how to convince a skeptical luxury seller as to the best entry point in your market.
Last time we talked about assessment ratios. Today, we look at how we can calculate and compare square foot selling prices into another pricing metric for your luxury seller.
Hope you enjoy the video.

---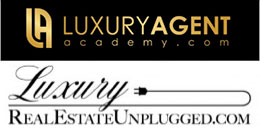 The program has started but you still have time to register and catch up with the class for 7 Shockingly Easy Steps to Breaking into Luxury Real Estate. Register today
Another FREE Luxury Real Estate Unplugged webinar on March 4th, 2014.
Register today at www.LuxuryRealEstateUnplugged.com
Leave your question at the bottom of : www.LuxuryRealEstateUnplugged.com
Lastly: Think about your own luxury listings and decide which one could benefit from exposure through my newsletter. Send me pictures and a brief description with your contact information and I'll include the best one with mine in my weekly e-video news blast. Wouldn't that be great if we had a referral in our group every single week as a result of this video series? In the meantime don't forget to pass this video to a Realtor friend.