Last week, we underscored the often overlooked importance of business cards in Luxury Real Estate.
This week, we will be discussing the pivotal role that newsletters play in Luxury Real Estate personal marketing.
How Important Are Newsletters?
Newsletters should be part of your marketing plan. They provide an opportunity to convey expertise and value, and help you to stay in touch with your clientele or your potential clients.
Click To Tweet
Paper
The higher you go in price range, the nicer it is to market using paper. I'm not saying you shouldn't do an email version of the newsletter, but a tastefully designed newsletter can convey luxury in a way that email cannot. I suggest printing and mailing the newsletter as well as electronically distributing it.
Conveying Your Expertise
Think about your average client, your typical client, or your perfect client – the person you really want to serve and the problems you really want to solve. What do they want to know about real estate? They want to know how to improve their homes, what's going on in the marketplace, the rate increases, and the real estate values of a particular market. If you can answer their questions in the form of a newsletter, you're demonstrating your knowledge as a luxury real estate expert.
Don't Be Afraid To Be Wrong
Creating newsletters can feel intimidating because of the fear of being wrong. When I'm wrong, I find that people call me to let me know. The whole idea is to have people call you. So when people phone to correct me, it's helping to meet my goal to have conversations with prospects. It's about your influence in your market. You can talk about things that are new to the market, new listings, and recent sales. Everybody loves to be a vicarious realtor now. They want to know what's going on. Thus, the more information you can include, the more value you're going to bring and the more service-oriented you will be.
Keep It Current & Concise
Ensuring that the information in the newsletter is current is really important. Just like with the business cards, you want newsletters to be concise. You don't need millions of charts, graphs, and all kinds of stats. Focus on one thing. Keep it simple and up to date so people can read it in one glance.
Consistent Template
Don't make newsletters look different every time you send it out. It should look the same each time you're sending it out because this helps to solidify the look of your brand. Have somebody create a template. Try to integrate a current picture of yourself, sales data, and some luxury listings.
One Last Reminder
If you're taking other people's content, you have to get permission. You could be paying big fines for stealing other people's content. Thus, give credit and acknowledgment, or get permission to use it.
Until next time, make it a great week.
Next Story »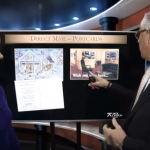 April 24, 2019