International orders, except for Canada, need to be placed through Amazon.
---
Be the one selling the top 10% properties in your market
Success at this level is all about relationships – the kind you can start creating today. Selling Luxury Homes shows you how to become the trusted advisor to high net-worth buyers and sellers who call on you for help with all their real estate needs.
Jack Cotton has over three decades of success in the luxury real estate. Now you can learn his proven methods for finding and cultivating high-end buyers and sellers in your area, without any prior connections or networking in place. His practical, step-by-step guidelines also help you master the top negotiating techniques required to succeed in this market.
Learn the details that make the difference between getting in the door,
and looking in from the outside.
"Jack Cotton is by far one of the most sought after professionals in luxury real estate. Any agent who wants to excel to the top of their market would do well to carefully follow the advice Jack shares. Don't show another home without reading this book."
— John Brian Losh, Chairman & Publisher, LuxuryRealEstate.com,
Who's Who in Luxury Real Estate, LuxuryRealEstate.com Magazine

"Presentation is everything in real estate, and Jack Cotton is a premier expert on 'Staging' yourself as the go-to agent in the luxury market. This book has it all."
— Barb Schwarz, The Creator of Home Staging®
Author of Home Staging: Thee Winning Way to Sell Your House for More Money

"This behind-the-scenes at what it takes to list and sell luxury homes is a gold mine. Don't miss out!"
— Curt Warner, CEO and President
Platinum Sales Systems
Free Downloads-$100 Value:
Get the listing & pricing spreadsheets described in this book when you order!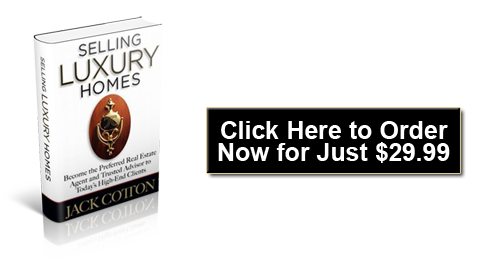 ---