---
12 Secrets Luxury Home Sellers Know
What do the people selling that
mansion know that you don't know?
Whether you're selling a primary or a vacation home, you can apply what wealthy homeowners know to sell your home in the shortest time, for the highest price, with the least aggravation.

Take an inside look at the personal and financial habits of the people who buy and sell the kind of upscale homes that we all look at and long for. You can now systematically sell your home using the 12 "secrets" that work for luxury home sellers.

Like its companion book 12 Secrets Luxury Home Buyers Know That You Can Use Today, this book shares the knowledge of those who have made their money the old-fashioned way—with the "good luck" that comes through working hard and recognizing opportunity.

Based on three decades of working with luxury home sellers, America's top luxury home expert Jack Cotton tells you how to:

prepare yourself mentally to sell the way luxury home sellers do;
ask the right questions, to hire the right agent, for the right reasons;
ask for marketing that will sell your home faster and for the highest price;
respect the time value of money, and understand why selling sooner rather than later can be more profitable;
create and use a staging checklist to present your home in the best possible light;
price your home to attract the buyers who will actually buy your home;
apply the three rules of luxury home seller negotiation—and close the sale.

12 Secrets Luxury Home Sellers Know That You Can Use Today gives you 12 common-sense strategies to put into action immediately. Each chapter ends with specific steps you can take to reap the rewards of faster, smoother, and more profitable selling!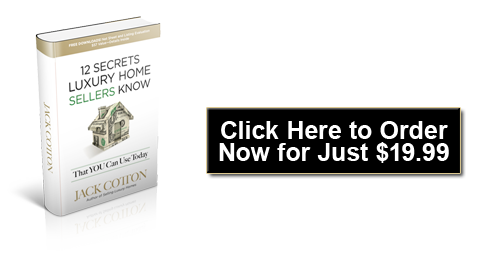 ---