Earlier this year, the frigid winter weather took a little break and although I bike in ALL weather, riding with the sun and 45 degrees will be a treat. It got me thinking about an article I read in Bicycling Magazine about goal setting. Who would think that cyclists would set goals? What's more amazing, is how the process for setting goals as a Luxury Real Estate specialist is so similar.
I originally shared this video to help you set and achieve your goals for the year. Now that we are halfway through the year, I thought it was a great time to check in and see how you're doing. Did you follow the steps?
If not, it's not too late. Make the commitment to start today and go hard after your goals for the rest of the year! If you need some help, join me in Luxury Real Estate Unplugged and get the answers to all your questions.
Here are the six steps outlined in the article. I will describe them in the video:
1. Identify your Goal
2. Make a Plan
3. Tell the World
4. Track your Progress
5. Be Present
6. Put in the Effort
Hope you enjoy the video. See how you can use the goal setting steps of a Tour de France Champion!
---
Win a Selling Luxury Homes DVD! $129 Value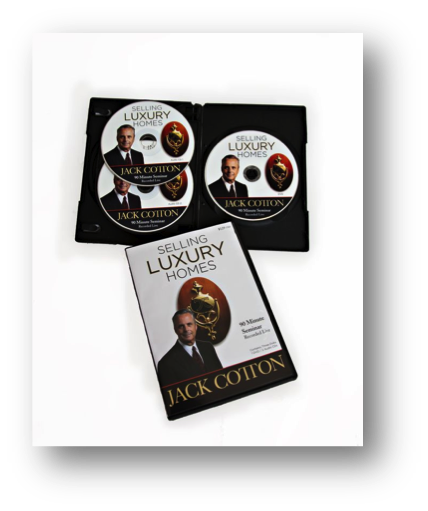 Here is how to win:
Leave a rating and review for my Selling Luxury Homes on Amazon.com —> http://amzn.to/1hp910z
Each week during June 2014, I will draw a name from the reviews of the week.
This week, the prize is the DVD/CD combo shown above.
Email me so I know you left the review and I know where to send the DVD if you win.
---
Don't forget, I will cover more of your luxury real estate questions on the first Tuesday of each month. Register RIGHT NOW at www.LuxuryRealEstateUnplugged.com. This is a monthly one-on-one coaching in a group setting. Sign up and get your question submitted without delay.


Action items this week:
Lastly: Think about your own luxury listings and decide which one could benefit from exposure through my newsletter. Send me pictures and a brief description with your contact information and I'll include the best one with mine in my weekly e-video news blast. Wouldn't that be great if we had a referral in our group every single week as a result of this video series?
In the meantime don't forget to pass this video to a Realtor friend.